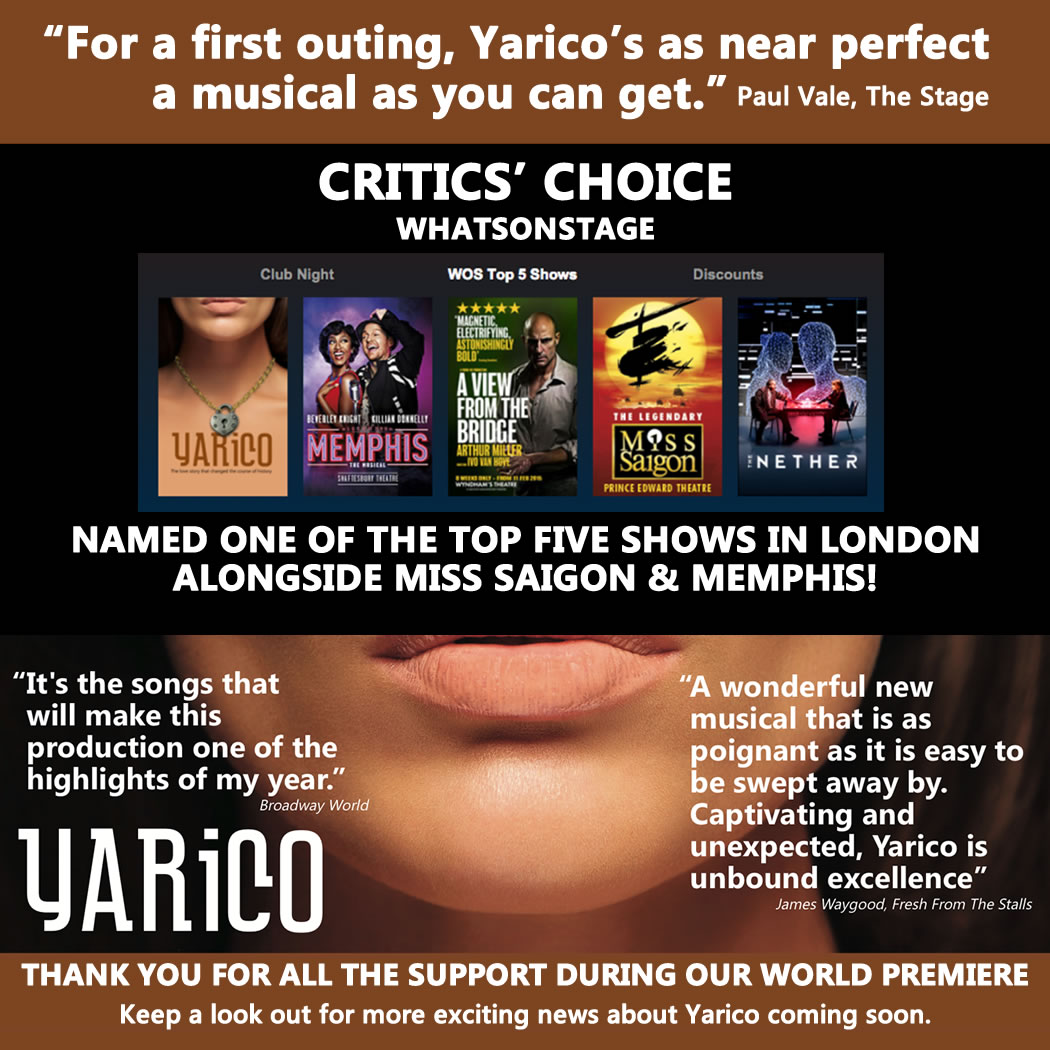 Review Quotes
Broadway World Review …  Gary Naylor
Outside the classic musicals, I'm seldom tempted to buy a soundtrack album, but I would definitely buy one for this show (were it available!)
But it's the songs that will make this production one of the highlights of my year.
Paul Vale  "The Stage"
For a 1st outing it's as near perfect a musical as you can get.
Remote Goat Review…..Aline Wates
I have never been moved so much by a musical and the themes of slavery and diversity of race, gender and culture are powerfully expressed.
The show may not yet be quite perfect but it has enormous potential
James Waygood, "Fresh off the Stalls"
A wonderful new musical that is as poignant as it is as easy to be swept away by. Captivating and unexpected, Yarico is unbound excellence.
Musical Theatre Review……
Yarico, directed by Emily Gray, is a thoughtful piece of musical theatre with real potential. With small changes in narrative pacing, this show could be a success.
Ginger Hibiscus…….
Yarico is a brilliant new musical that definitely deserves a look in.
Theatre South East Review
Hopefully there will be a cast album so that we can become more familiar with the intriguing score.
Reviews from the London production of "Yarico"
February 2015
Broadway World Review …  Gary Naylor
Yarico dreams of escape from her humdrum village life on a remote Caribbean island; her friend Nono dreams of boys. When two shipwrecked Englishmen turn up on the shore, they see that their lives might change forever. And they do - but not in the way that they had imagined.
Yarico (continuing at the London Theatre Workshop until 28 March) is based on a true story, one that has been adapted many times, its echoes of Romeo and Juliet and The Tempest in a time of slavery, proving irresistible as both entertainment and instruction. So Carl Miller (book and lyrics), James McConnnel (music), Paul Leigh (lyrics) and Emily Gray (director) had to create something special to make this version stand out from the crowd - and they did..
After a bit of exposition, with one of the best and most innovative bands I've ever heard on the fringe already showing their chops, the show takes off when the lovers meet. Sure, it's boy-meets-girl stuff, but the set's hanging sugar canes act as both a place to hide and a reminder that they are the source of both the sweetness that had (and has) Westerners addicted and the weapons that would beat those forced, on the end of a musket, to produce it.
But it's the songs that will make this production one of the highlights of my year. The second act opener, "Give Me My Name", is heartrending and powerful, a succinct reminder that slavery crushed its victims psychologically as much as physically. "Chocolate" - an exposition of the hypocrisies of the plantation owners - has more than a touch of Lionel Bart about it and there are echoes of Gilbert and Sullivan's more biting satire elsewhere. Outside the classic musicals, I'm seldom tempted to buy a soundtrack album, but I would definitely buy one for this show (were it available!)
There's much to admire in the performances too (reviewing this production much deeper into its run than is usually the case for a Press Night made me think how actors relax into the roles and whether some reviewers might best delay their visits for a second wave of publicity). There's not a weak link in the cast of eleven, with Melanie Marshall and ToriAllen Martin catching the eye and Charlotte E Hamblin channeling the plantation owner's wife in Django Unchained to gruesome comic effect. As Yarico, Liberty Buckland gives a stellar performance, carrying the emotional burden of the dreadful fate while singing in the voice of a West End lead. With a magnetic stage presence and looks that must be a lighting director's dream, this is a stage debut that can catapult Buckland to stardom - see and hear her up close now while you still can!
Trestle Theatre do a lot of work in education and one can easily see how this show could be adapted for schools, but it would be a shame if this production were to disappear at the end of its run. Marketed cleverly, there's plenty enough here to tour medium-sized venues in the UK and (one might hope) the USA and beyond. Supermodel Jodie Kidd's debut as producer has delivered a sparkling new musical and a sensational new star.
Broadway World
2015 Year in Review: Gary Naylor's Best and Worst of Theatre
Musical theatre is another genre in which boldness in conception and confidence in delivery is key to avoiding its many pitfalls. Amongst the best productions I saw this year were West End smash hit Beautiful - The Carole King Story (and what a joy to be reminded of her immense talent), London Theatre Workshop's Yarico, with an outstanding central performance by Liberty Buckland, and The Stationmaster, an eerie adaptation of a 1930s allegorical warning of the coming of Nazism.
Paul Vale  "The Stage" tweets…..Yarico
" A fractured love story told with heart & soul features a thrilling, evocative score, witty and occasionally daring lyrics and a thoroughly engaging story.
The Stage Review     Paul Vale
The story of Inkle and Yarico and its anti-slave narrative originated in the 17th-century but became popular as an operetta years later with the rise of the abolition era. Now reimagined for the musical theatre stage, the drama of a Amerindian girl, Yarico, who is sold into slavery by the man whose life she saved, still captures the imagination.
Book and lyric writer Carl Miller has fashioned a witty and engaging adaptation that places Yarico centre stage with a stunning professional debut from Liberty Buckland. Themes of love, loss and the spirit eternal are reflected in James McConnel's lush, evocative score and echoed here by Zara Nunn's percussion-rich orchestration.
Buckland is joined by Alex Spinney in the difficult role of gambler Thomas Inkle, but Miller's succinct book allows him a hero's, if not a happy, ending. There are notable performances too from a tight-knit ensemble, especially Tori Allen-Martin as Nono and Jean-Luke Worrell as Cicero, offering well-timed comic relief.
Model and presenter Jodie Kidd, accompanied by father John, may have been making headlines as Yarico's ingenue producer, but the real star here is the piece itself, which despite a relatively short gestation period has emerged in exceptionally good shape for a first outing.
What's On Stage Review….. Ben Hewis
In 1998 producer John Kidd commissioned a musical based on the 18th century opera Inkle and Yaricofor the annual Holders Opera Season held at his Barbadian plantation. Eighteen years and eight books later that story, partially set aboard a ship called The Providence, has completed its Atlantic crossing and moored at the London Theatre Workshop. 
As far as story structures go, Yarico - first recorded by Richard Ligon in 1657 in his book A True and Exact History of the Island of Barbados - is a rare one; boy meets girl, boy falls in love with girl, boy marries girl, boy sells girl into slavery. 
Thrown overboard for gambling debts, Inkle (Alex Spinney) finds himself washed ashore on an unknown island. Threatened with certain death by the island's 'savages' his only hope lies with ambitious Amerindian Yarico (Liberty Buckland), whose love of Shakespeare means she's the only islander who understands the language of the 'ghostpeople'. The pair fall in love and plan to return to London until Inkle's gambling changes their course forever.
Yarico is by no means a finished product and the show's producers John and supermodel daughter Jodie Kidd have openly admitted this. At times the book is clunky and there are a few superfluous numbers, especially in the first half; the second is much slicker, songs including "Give Me My Name" and "Spirit Eternal" are rousing, well written compositions. 
But this show's crowning glory is its tremendously talented cast. Spinney and Buckland, both graduates of the Royal Academy of Music, stomp through the show's score - which is a hodgepodge of genres from Calypso to Carribean Sea Shanty and even the distinctly Disneyesque "The Things We Carry With Us" - with aplomb. Standing out in the outstanding ensemble is Tori Allen-Martin, gifted with impeccable comic timing and a stage presence that makes it hard to take your eyes off her.
It's a heavily physical piece - hard to accomplish in such a small space made smaller by a four-piece band complete with massive marimba - laden with gestures and symbolism, exacted by director Emily Graywhose experience as artistic director of mask and physical theatre company Trestle is put to good use. 
Yarico may not be polished and the venue may be too small for this oceanic tale, but it's exciting and well worth catching to see raw talent performing a red raw tale of love, loyalty and language. 
Everything Theatre Review …Helen Dalton
Yarico tells the story of a young native Amerindian woman who saves the life of an Englishman when he is shipwrecked on her island. The two fall in love and she leaves her life, tribe and village to marry him, only to be sold by him into a life of slavery on a sugar plantation. It is a captivating story and this production peoples it with rich, believable characters, telling the story with an impressive balance of comedy and tragedy. The start of the show is particularly funny, which emphasises the pain, betrayal and suffering that come later.
One of the things I liked most about Yarico was the depth of the many characters shown. The depiction of both the native fisherpeople at the start and the plantation slaves later in the show avoid cliché and simplification. Instead, each group is a collection of interesting and original characters. The fisherpeople are savvy, considering Englishmen to be savages and barbarians. Their humour and life is modern and relatable – very different to the all-too-common depiction of native peoples as savages whose only good points are a vague kind of spiritualism and a mystic understanding of nature. The slaves on the sugar plantation are real people too, not just products of their slavery. You can really see and understand how each person has adapted differently to the huge strain of the horrific situation they are in. Using the same actors to play the slaves, tribespeople and sailors emphasises their shared underlying humanity, despite some characters refusing to acknowledge this.
Liberty Buckland, playing the central character Yarico, is fantastic. Her Yarico is strong and proud yet easy to sympathise and identify with. The scene in which she is sold at auction is harrowing and powerful. Yarico's best friend Nono is played by Tori Allen-Martin with spirit and humour. Charlotte E. Hamblin as the plantation owner's snobbish wife Lady Worthy is also brilliant. Beneath her imperious commands, you can sometimes glimpse a highly-strung, guilty nervousness, adding depth to even the cut-out villains of the piece. On the other hand, I felt that Tomas Inkle, Yarico's lover, is disappointingly flat; his character is based around his gambling habit and has little more to flesh it out.
As a play, Yarico is brilliant. As a musical, I felt it was sometimes lacking. The cast have great singing voices, and the on-stage musicians do a fantastic job, but the songs themselves are a bit hit-and-miss. Three of the musical pieces stand out in my mind as strong, memorable and rousing, but the majority of the others I found lacking in power. Luckily, Buckland's sweet, strong voice helps her carry off those songs that would be lacklustre otherwise. On the other hand, I felt that the cast really shone in the show's best songs. One of the most enjoyable moments comes when a group of slaves steal a moment to themselves and start dancing, sharing their cultures and traditions with each other. The song they sing as they dance, Take a Step, is fun and sensuous.
The Eel Brook pub is a great venue; downstairs has a country pub atmosphere with some hipster highlights while the performance space upstairs makes good use of the limited space available. It does however get very hot and the noise from outside intrudes sometimes, a problem that was particularly bad during the performance I attended. If this had happened during a weaker show, it might have ruined the experience, but for most of the time Yarico was so absorbing that I hardly noticed.
Remote Goat Review…..Aline Wates
The story of Yarico was first recorded in 1657 when it was featured in a factual book by Richard Ligon 'The True and Exact History of Barbados' An opera 'Inkle and Yarico' by Samuel Arnold and George Coleman in 1787 thrilled Europe and the Americas bringing to the fore the ethics of forced labour. After 200 years of virtual obscurity, John and Jodie Kidd have brought the story back into our attention with this brand new musical play having its premier in Ray Rackham's charming boutique theatre in Fulham.
Yarico is a Native American girl of enormous spirit and intelligence who is bored with her life on the small Island in the Antilles – and she dreams of the land where life is exciting and not just a daily round of fishing, cooking and eating. She tells the Island natives stories from the book of Shakespeare left behind by some of the Ghost (white) People who came to visit, betraying their hosts by torturing and killing many of the Islanders. She has learned English from the book though we are not told how she has learned to speak it, because when two Englishmen Tom and Cicero are shipwrecked on the Island Yarico is able to communicate with them and save them from the vengeful wrath of the indigenous population. She marries Thomas and she and her friend Nono join them when they are rescued by an English ship bound for Barbados.
However in Barbados things go wrong and we are in the middle of a sugar plantation where the chocolate eating and tea drinking white people keep their slaves in inhuman bondage 'The things we carry with us' is one of the great songs delivered by the very wonderful Melanie Marshall' All the cast are excellent singers, but this lady is outstanding. Yarico is played by the very lovely Liberty Buckland and her husband Tom is Alex Spinney. They handle the drama and passion and sing together with perfect attention to both tunes and lyrics. People who witness a lot of musicals will sympathise and understand the rarity of this.
It is a totally engrossing production and in addition to the romance and passion of the story there are many very funny vignettes -occasionally set to music and beautifully performed by Tori Allen-Martin as Nono and Jean-Luke Worrell as Cicero. Neither of these characters can understand a word of what the other is saying but this does not get in the way of their happy marriage. Another romance is between Keisha Amponsa Banson as Jessica the African indoor slave to the governor's lady and Michael Mahoney as Frank her Irish lover.
What is especially fascinating about this cast is that as the ensemble, they all play Islanders, slaves and the ghost people without regard to colour. Inevitably in a show on this subject, the slaves are noble and wonderful and the white folks silly and cruel. Nevertheless I have never been moved so much by a musical and the themes of slavery and diversity of race, gender and culture are powerfully expressed.
The show may not yet be quite perfect but it has enormous potential
James Waygood, "Fresh off the Stalls"
Overview
Yarico lives on an island in the West Indies. She speaks English after the last "Ghost Man" came to the island, and dreams of the worlds written in her book of Shakespeare's plays. One day, a storm brings another "Ghost Man" to the island: John Inkle. She saves his life and they fall in love and pledge to go to England, via Inkle's rescue to Bridgetown. But John's vices see him lose Yarcio to the ship's captain in a game of dice. She's then sold and doomed to a life as a slave on a sugar plantation. But what will break her first, her broken heart or the brutal shackles of slavery?
Book
Yarico is based on a true account as seen in 1657 book A True and Exact History of the Barbdaoes, which also inspired an 18th century comic opera by the name of Inkle and Yarico. Model and ex-Barbados resident, Jodie Kidd, alongside her father John Kidd, have made moves to produce a modern musical reworking of this tale of love, vice, betrayal, and a dark period of human history.
Carl Miller's text and narrative structure is a little by the book (pardon the pun), with familiar tropes like a comic B-narrative that compliments and feeds into the main, and a pacing that's pretty typical of a modern musical when it comes narrative peaks and troffs. But even thought the structure is comfortable, it doesn't mean that Yarco is shallow or throwaway.
The characters in Yarico are incredibly well-rounded, and have a sense of depth and intrigue behind them all. They effortlessly grow on you and you're reeled quickly into their stories because they feel very real, never antiquated or academic given the age of the tale. Even Miller's comic relieves, Cicero and Nono, feel fully realised and as important as Yarico and Inkle, even if their antics are played for laughs more than the tragedy of its leads.
What becomes quickly apparent is that this is also an incredibly rich and intelligent book. For starters, the several parallels Miller's draws between Yarico and Shakespeare's The Tempest are intriguing and add a wonderful sense of poetic colour and drive. But it's how the book approaches what is quite an emotive subject that marks Yarico as special. The subject of slavery is presented here more complex than you'd expect. There's things like wonderful subversions of some of the familiar and uncomfortable mantras we still hear today regarding race, but most noticeably it adds complexity to the history of the slave trade by including facts things like the divide between African and West Indian slaves, as well as noting the White Irish slaves that were also among their numbers. It smudges our general and sometimes shallow understanding of what the slave trade was and the people that were involved in it. In doing so it adds intrigue and smarts, as well as affectionately and devastatingly humanising its victims.
In saying that, Yarico isn't a musical about the slave trade, per se. It's a musical about love, betrayal, persistence, and redemption that is set against the atrocities of the time. It's main focus is on the human condition and its tenacity that really drives the show, rather than overly revelling in the horrors of the evil that was. If anything, the injustice of Yarico's predicament adds a thundering layer of emotion that lifts the story, rather than being something brutally historical.
At every point, Miller's book for Yarico always throws up challenges and little surprises. This is far from a rudimentary view of the slave trade that we so easily recognise. Instead, it's an evocative tale of heartbreak set against a backdrop of grave injustice. It never delivers the obvious, never panders to preconceptions, and always challenges. You leave feeling elated, moved, but also questioning what you thought you knew.
Music & Lyrics
James McConnel pens as rich as score as Miller's book. A fusion blend of musical styles washes through the entire score with kaleidoscopic breeze. It doesn't just plumb for a strained pastiche of one particular "ethnic" sound, but creates a smorgasbord of myriad influences including tribal, jazz, blues, Celtic, and even several good ol' Broadway belters. It's a score that's as fluid, surprising, and complex as the narrative, with some impressive percussion orchestrations by Zara Nunn, such as the sultry use of a rather beautifully crafted marimba.
Song wise, most of what McConnel writes for Yarico works really well. However, there are a couple of songs that are a little unconvincing, such as; "A Land Elsewhere", which is fractious and clumsy with some unflattering lyrics; or "Chocolate", which was just a bit too bombastic and crude compared to the rest of Act II within which it sits. But there are more than enough numbers that range from the good to the brilliant that make up for it. "The Dice Game" is unexpectedly capricious and brims with climax and tension, and "The Things We Carry With Us" is a gorgeous and moving West-End ballad, given astonishing flight and breath when sung by Melanie Marshall. But it's "Spirit Eternal" that really rouses the heart, with sumptuous harmonies and a soaring African melody that leaves a soul-aching impression.
Lyrically, Paul Leigh pens a very simple and natural words in the song. Although it doesn't feel too flowery or poetic, it certainly isn't basic. It does enough to still capture the raw emotion of the characters, whilst also finding a subtle metre and rhythm on-top of those already in McConnel's music.
Direction & Production
Sarah Beaton's set for Yarico is certainly the most striking thing about the production. Black and glossy walls and floors with bamboo canes (signifying sugar cane) hang from the ceiling, giving the entire show a strange and dreamlike quality whilst alluding to the commodity that drove the Barbados economy. The diagonal rise in the performance area also give some interesting opportunities for director Emily Gray to play with height, capitalising on it as a subtle but effective means of conjuring everything from island shores to the decks of a galleon.
Gray's direction really embraces the small and slightly awkward space of the London Theatre Workshop, especially with accommodating the band and it's many percussion instruments. But most impressive is Gray's measured use of physical theatre and movement in Yarico, working with choreographer Jeanefer Jean-Charles, to conjure scenes that a set in such a humble space couldn't do, or use abstracts to heighten some of the more dramatic and severe moments. It mirrors the dream-like quality of Beaton's set quite well, as well as being visually arresting.
Casting here should also be noted, regarding the intentional decision to have both black and white performers doubling as both black and white characters. It helps to blur and add complexity to our response, and does so with provocative effect. Even though it's a little odd at first seeing white West Indian villagers, the power of the material, direction, and cast, makes this suddenly feel irrelevant. They cast and production, whatever their personal creed or that of who their depicting, are all more concerned with telling the story and doing it justice rather than making it look like "right".
The only thing I can really criticise in Yarico is the puppet at the very end of the show. Made of roughly sewn Hessian rags and skinny twigs of cane, it genuinely looks like something out of a horror movie rather than the representation of a small and sweet child. It's such a shame there's this small misstep at the end of the show. The puppet does fall into line with Beaton's set and costume design, but just looks unintentionally unnerving in practise.
Cast
Alex Spinney as Thomas Inkle brings a really boyish and reckless charm to the character, and not to mention a powerful voice too. His belting reprise of "Silver and Gold" was a particularly punchy moment of his performance. Surprisingly, his brooding as the broken and disgraced merchant actually manages to inspire pity despite his acts being totally deplorable, showing Spinney as an actor who can really command a response through emotion.
Keisha Amponsa Banson as favoured maid Jessica is wonderfully spitting as the proud African. But even through her stony demure, what's fascinating about her is how she plays her vulnerabilities and what she does when her character's guard is down. She's reeks of hot surging passion when cavorting with Irish slave Frank, but then is also pathetically grovelling when her dignity has been dented. She adds a real sense of complexity as well as fiery gusto and selfish danger.
Liberty Buckland's professional début as titular Yarico is superb, even though you don't initially realise it. She starts off fresh, naïve, and full of life. Yet by the end of the musical, after being brought the the edge of reason, she's a strong and commanding woman. The change in Buckland is so gradual and organic, it's almost unnoticeable. She beguiles you from start to finish, and holds you with a joyous charm in both charisma and silken voice.Verdict
A wonderful new musical that is as poignant as it is as easy to be swept away by. Captivating and unexpected, Yarico is unbound excellence.
Musical Theatre Review……
Producers John Kidd and his daughter Jodie draw attention to the unsettling, rarely performed story ofYarico through their powerful re-imagining of the 17th century story of a young woman sold into slavery.
The tale of the eponymous Amerindian woman employs a theme seen regularly in musical theatre – a heroine who falls in love instantly with a stranger from a distant world only to suffer disaster.
However, not many works deal with the consequences of a man gambling away his wife and selling her into servitude. The focus on slavery as the backdrop to the play creates a complex and dark piece of theatre with political and cultural significance. The show has a book and lyrics by Carl Miller, music by James McConnel and lyrics by Paul Leigh.
Sarah Beaton's set design enhances the intimate space by creating the small, secluded island in which Yarico meets the 'ghost people' – the visitors from England, who will change her life forever.
Liberty Buckland is strong as Yarico. In the first half of the play, she reflects the naivety and shyness of the character and establishes believable chemistry with Alex Spinney 's Thomas Inkle. Standout moments between the pair include the idealised scene in the cave as they recognise their similarities by 'teaching' each other their languages through song.
Buckland also works well with Tori Allen-Martin who plays the eccentric Nono. Allen-Martin has brilliant comic timing and demands the attention of the audience as a standout performer.
Act I, which relies on the comedy behind the clash of cultures, suffers from pacing issues because the narrative is slowed by exposition.
However, the second half of the piece truly excels as we experience Yarico's desolation when she is sold to the pompous Lady Worthy (Charlotte E Hamblin) and her husband the Governor (Adam Vaughan). The cast works together cohesively and performs a number of powerful numbers including 'Give Me My Name' and 'Spirit Eternal'.
Yarico, directed by Emily Gray, is a thoughtful piece of musical theatre with real potential. With small changes in narrative pacing, this show could be a success.
Ginger Hibiscus…….
A musical about slavery…"Slavery, the Musical…"It doesn't exactly sound like a great evening out, does it? And if ticker tape and jazz hands are what you're after from musical theatre, then you're right. But if it's not, then perhaps you're looking for something that provokes, tackles topics that actually matter, and eloquently tells a story. In which case, Yarico is a brilliant new musical that definitely deserves a look in.
The story of Yarico extends far beyond the closing curtain, beyond the lifetime of the eponymous woman, born in the 17th century West Indies, and still alive four centuries later, having evolved from woman to tale, to newspaper, to opera, and now to musical. It's a story that's made its mark; the 18th century opera fuelled public discussion into the morality of enslavement and the merits of the abolition, stoking the fire of a debate that ultimately lead to the end of this brutal and inhuman practice. Unknowingly throwing the wood on that fire is Yarico. Her character gives the human touch, whose loveliness, strength and vulnerability forced members of "civilised" society to challenge their own beliefs, as, for once, they took off the blinkers and saw a slave for what it really was. Who it really was. A person.
As Yarico grows up, the native Amerindian observes the "ghost men" who come, and take, and kill, and leave. But when she meets one of these "ghost men" as a young woman, a British trader called Robert Inkle, she holds him apart from his race and sees in him no crime against her people. So when he's captured by her tribe, she saves his life and they embark on a relationship that noone wants to acknowledge. But her life is twisted and torn by the hands of the British settlers, as she's dragged down a street she never intended to venture along…
As the leading lady, Liberty Buckland stands majestically in front of us, small but enigmatic in a lovely professional debut, opposite her trader love interest played by Alex Spinney. Convincing and well-pitched, he comes into his own in The Cave, the beautiful choral quality of his voice shining in the Barbados sun. Also notable is Charlotte Hamblin, just reprehensible as the ironically-named Lady Worthy, embodying the attitudes that claimed slaves as fashion accessories, and a moral compass that prioritised musical instruments above even the lives of her own sailors.
Drawing influence from cultures the world over, James McConnell's music is given an earthy tone thanks to a glorious array of wooden percussion, imposing a sense of authenticity and creating a sound that's unusual in musical theatre, but that's perfect for Yarico. The large cast, particularly for such a small performance space, gives real impact to the ensemble pieces, and indeed it's them that stand out in the memory – the frenzied The Dice Game and hauntingly lovely Spirit Eternal, both with beautiful – and very different – vocal arrangements.
The production does a wonderful job of depicting the Amerindians as fully functioning, welll-adjusted people – the British settlers, less so, as they're charicatured and satirised. The effect is powerful, explaining and exploring, without pointing the finger of blame at anyone now alive, something that's just as important as telling the story, and highlighting this murky period in colonial history.
As a show that's all about the narrative and the music, there are some problems with the production; whilst the long passages about the exchange of language between Yarico and Inkle serve as a rather lovely device for their strengthening bond, the way it's all depicted in English strangely makes it hard to follow and it feels quite needlessly protracted. There's also a sense of frustration in the outcome of the story – though the ending is such a stunningly emotive piece of theatre that you're halfway home before you realise that you never found out what actually happened.
It's not up for dispute that the slave trade was a disgusting, barbaric industry trading blood for Silver and Gold, that dehumanised people, destroyed communities, killed, tortured and treated people worse than the animals they were kept with. Yarico unflinchingy puts that on the stage, giving a glimpse not only of the exploited tribesmen and woman, but also of a culture where the disgust at selling a person as cargo is utterly eclipsed by the outrage induced by holding a slave auction on a Sunday. What's remarkable about the show it is how these messages are effectively staged, and yet the musical as a whole has enough warmth and humour to make it a show that you do enjoy watching.
London Theatre 1 Review….. Terry Eastham
The slave trade is probably one of the biggest blights in the history of this sceptered isle and is something that is very rarely mentioned in polite society. That has all changed now with London Theatre Workshop's production of "Yarico" a powerfully emotional story of love and betrayal in the 17th Century.
The story opens on an island in the West Indies where two young native girls, Yarico (Liberty Buckland) and her best friend Nono (Tori Allen-Martin), are getting ready to go fishing yet again. Yarico is dissatisfied with the repetitiveness of island life (fishing, gutting, eating) and longs for a better life – like that described in a book of Shakespeare plays left behind by a visiting white man – especially something romantic such as the tale of Miranda in The Tempest. Following a storm, Yarico and Nono's lives change as they find two men washed up on the shore. Thomas Inkle (Alex Spinney) and Cicero (Jean-Luke Worrell) are young, handsome and, as we quickly discover wastrels, who love gambling and have been thrown overboard from their ship by fellow passengers. None of this matters to Yarico and Nono who pretty instantly fall in love with the boys. Yarico even goes so far as to save Thomas from her village that want to kill the white man. Love blossoms for Thomas and Cicero as well and suddenly the island is a real paradise for the two couples. Back in the town of Barbados, news of the loss of Cicero and Thomas has come through and a rescue boat is successfully dispatched to retrieve them and, as it turns out, their new wives. As the boat takes them back to Barbados, Cicero and Nono retire to their cabin for the night and Thomas remains on deck where he explains a dice game the crew are playing to his wife. Feeling tired and bored of watching the game, Yarico goes off to bed herself. Now, at this point, every member of the audience was inwardly screaming at Thomas to go to bed with Yarico but no, he stayed for 'one more round'. His luck is bad, in fact, diabolical and after losing his money, his jewels and even his clothing, Thomas, believing his luck must change, offers Yarico as his stake in the game. Needless to say, he loses and on arriving in port the next morning, Yarico is not taken by her husband to his home, but instead is taken to the market and sold as a slave to the Island's Governor (Adam Vaughan) and his social climbing snob of a wife, Lady Worthy (Charlotte E Hamblin).
The second act opens with Yarico, now in the Governor's household, being taken under the wing of Ma Cuffe (Melanie Marshall) who explains in great detail the reality of a slave's life. Since she speaks English and knows Shakespeare, Lady Worthing takes a shine to Yarico – as much as the relationship between slave and mistress can be described as such – and she parades Yarico to her friends as an entertainment, much to the chagrin of Lady Worthy's personal lady's maid/slave Jessica (Keisha Amponsa Banson). The masters have an idyllic life, making huge amounts of money by the use of slave labour in the sugar fields and using female slaves for their 'pleasure' – indulging in a little bit of chocolate as they so quaintly put it – whenever they wish. But, underneath, tensions are rising, and the slaves are close to rebellion. All it needs is one little spark to light the tinderbox. Yarico, Nono, Cicero and every slave on the island get caught up in the plotting one way or another leading to a climax that is in equal measure horrific, shocking and immensely moving.
Going to be very honest here. When I first arrived at the theatre I really had my doubts about this show. Given what I had read of the story, I was expecting it to be pretty depressing with a distinct lack of jazz hands. As usual with pre-conceived ideas, I was completely wrong. The story is dark but at the same time uplifting.
Liberty Buckland's performance is a real tour de force. She manages to convey everything that happens to Yarico – the good the bad and the devastating – with perfect gestures and a wonderful singing voice. I can see this young lady really going far soon. Not to be outdone, Alex Spinney is the perfect partner for Liberty. His portrayal of Thomas is sublime from the moment he is washed ashore, alone and terrified, through to the intensity of his love for Yarico (only slightly less strong than his love of gambling) to his devastation at the realisation of what he has done to the woman he loves. It would be so easy to despise Thomas because of his treatment of Yarico but he is a product of his times and a boy that today would be diagnosed as having a major addiction problem – remember "Yarico" is set in a time before the Gamble Aware campaign. To ensure that things don't get too heavy, there is comedy, mainly provided by the pairing of Nono and Cicero. These two are the perfect comedy double act and there are wonderful scenes, particularly in the hammock, where the characters are talking to each other in their respective language (both actors speaking English of course) and neither understands the other to great comic effect.
"Yarico" is based on a true story, and the creative team of Carl Miller, James McConnel and Paul Leigh have written a superb and engrossing story with songs, such as the highly emotional 'Give me my Name' – a truly fantastic bit of singing by Michael Moulton – really adding to the narrative. Musical Director Zara Nunn and her team draw every piece of emotion out of the songs and Director Emily Gray uses every inch of the stage brilliantly to produce fantastic and emotionally draining scenes. The ending to Act I at the slave auction was amazingly moving as was the opening to Act II and the very realistically staged 'flogging' scene, all of which were delivered by a talented and highly skilled cast giving the audience a mesmerising and superbly professional taste of the darker side of English history mixed with hope, redemption and the prospect of a bright tomorrow.
Theatre South East Review
I was delighted to be invited to go to the London Theatre Workshop last night on behalf of Downstage Centre (have you visited their snazzy new website yet?) to see the world premiere ofYarico a new musical written by Carl Miller and produced byJodie Kidd.
The play is loosely based on a factual story set in the Antilles in the early 1700s. Yarico (Liberty Buckland) is a feisty independent Amerindian woman who was taught to speak and read English by a previous English visitor to her island. Yarico in turn now tells Shakespeare's tales to the other villagers while dreaming of a more exciting life. Her best friend and confidant, Nono (Tori Allen-Martin), advises her to be more content with her current situation.
When Thomas Inkle (Alex Spinney) is shipwrecked on the island together with his friend Cicero (Jean-Luke Worrell), Yarico saves Thomas from not only his injuries but defends him from the mistrusting villagers and predictably falls in love with him. Less predictably Nono falls for Cicero and although their union is comically portrayed and was highly entertaining, it did make me feel that women on their island must have been a little sex-starved and didn't take love too seriously.
There were points in the first act where the story reminds me a little too much of the Disney version of Pocahontas and I did wonder if this tale was heading in the same direction. However, the story picks up pace once the star-crossed newly-weds set sail for their new life. Of course, things don't go to plan.
The play improved tenfold as it progressed. Liberty Buckland's portrayal of Yarico is splendid, she is able to give the brave passionate heroine a gentle vulnerable quality and her singing voice was beautiful. Alex Spinney also is admirable as the hapless hero, yet the story doesn't give the audience much time to like him or feel any sympathy for him no matter how tender he seems at first. There are many other outstanding performances from many of the eleven-part strong cast, in particular Tori Allen-Martin (Nono) and Charlotte E Hamblin who plays the odious Lady Worthy.
The Music and Lyrics by James McConnel and Paul Leigh are commendable as many of the songs stand out. The songs in the second act were more memorable especially the inspirational'The Things We Carry With Us' sung by Ma Cuffe (Melanie Marshall), the satirical 'Chocolate' and the rousing finale song 'Spirit Eternal'. Hopefully there will be a cast album so that we can become more familiar with the intriguing score.
There is no doubt that Yarico is an important story to be told. It is a story of love, betrayal, culture, class, slavery and a fight for freedom. It supposedly inspired a social movement against the slave trade through its popularity. Carl Miller's adaptation of the story is the first step to making Yarico's voice heard once more. I do think some of it needs to be fine-tuned, particularly the first act, but on-the-whole director Emily Gray has created a solid production with a great cast, and I am sure that we will see and hear more of Yarico.
The Grizzle Review
You may not think model Jodie Kidd and her father John to be typical theatre producers, but with family ties to Barbados they have chosen to bring the anti-slavery narrative of Yarico to the London stage. The story is a compelling one: a British merchant, Thomas Inkle, is shipwrecked on an island where he is saved by an Amerindian woman, Yarico – the only member of her tribe to speak English thanks to her interest in Shakespeare. The two fall in love, but fate draws them apart as Yarico is sold into slavery in Barbados. Loosely based on a factual account from the seventeenth century, this musical adaptation has been ten years in the making, but suffers from an inconsistent tone.
It is a show of two halves. The first is overly pacey, cramming in far too much plot for what is, essentially, exposition for the events of the second half. For a story on slavery, there is a light-hearted feel to the events that feels a little jarring. Some comedy is welcome, but this feels like a swashbuckler pitched somewhere between Pirates of the Carribean and Pocahontas. It certainly has an epic, cinematic feel but it's too big for the limited space of the London Theatre Workshop, most of which is taken up by the extensive percussion of the band.
Alex Spinney stands out early on for his performance as Inkle, offering a beautifully lyrical tenor, and Tori Allen-Martin is hilarious as Yarico's tribe friend Nono. Yet the girl meets boy forbidden love story feels too familiar and the often comical plot is presented with a Hollywood-esque sheen. What's needed is a greater grasp of the local ethnicity in both the music and the acting; the varying languages of the characters are cleverly depicted despite the whole cast speaking English, but it lacks authenticity.
Thankfully that comes in the second half. Here the narrative is altogether more intimate, with the focus on Yarico and her plight to free her fellow slaves. There is some spirited music, such as "Give Me My Name" and "Spirit Eternal" that allow for some wonderfully rousing ensemble harmonies and choreography to match the percussive music. This also allows the performers to settle further into their roles. Liberty Buckland eventually stands strong as the tragic Yarico, whilst Keisha Amponsa Banson provides plenty of tension as her rival Jessica, and Suzanne Ahmet proves vocally solid in a variety of roles.
There remain some missteps, however. For every authentic musical number there's a Disney-esque ballad that undermines the raw grit of the central love story, whilst the slightly racial connotations of the song "Chocolate" (in which the characters sing of their love for the drink) are a little uncomfortable to watch. And whilst there remains some comedy, the second half tries too hard to educate its (entirely white) audience: "The Same And Not The Same" is accompanied by a public whipping of a black and a white character that's heavy-handed. In trying to ensure the central message isn't lost amongst romantic slush, the show becomes somewhat preoccupied with preaching - to an extent this is a black story dumbed down for a white audience, just as Yarico is presented reciting Shakespeare for her British owners.
Yarico is far from a finished product – the producers have admitted as such. There is clearly some work to be done, but even in its current state this is a promising production with some glorious ensemble singing, a talented cast and a raw love story at its core.
London City Nights Review
Eel Brook Theatre, 25th February 2015 
The 18th century comic opera Inkle and Yarico is an important piece of theatre. First staged in 1787, it tells the tragic tale of Yarico, an Amerindian girl who saves the life of Inkle, a marooned English trader. The two fall in love, marry and make plans to return to London together. Unfortunately Inkle turns out to be a complete shit and sells Yarico into slavery. 
A spectacular success, the humanist themes fed neatly into the growing anti-slavery movement. Yarico's sad predicament, snatched from paradise, lied to by disreputable white traders and sold as chattel, works as a simple parable that exposes the immorality and greed of the slave traders while accentuating the humanity and nobility of those enslaved. It's popularity spread across Europe and North America, the show helping bolster public opposition to slavery, all of which culminated in the 1833 Slavery Abolition Act.
Now, with the admirable intentions of both educating audiences on the history of slavery and exploring how this tale remains relevant in 2015, Yarico is resurrected as a modern musical. The skeleton of the story - innocent island girl betrayed into slavery - remains the same, yet with a few modern wrinkles. This Yarico (Liberty Buckland) is a native Caribbean islander who rescues inveterate gambler Inkle (Alex Spinney). They fall in love, as does Yarico and Inkle's best friends Nono (Tori Allen-Martin) and Cicero (Jean-Luke Worrell).
Plans are quickly drawn up to sail to Bridgetown, Barbados and then onto the spires of London. Yarico can't believe her fortune; having learned English from a lost copy of The Complete Works of Shakespeare she's something of an Anglophile. But she'll never see London. Inkle, drawn into a below-decks game of dice bets Yarico on a roll of the dice. Soon she's eking out a miserable existence on Governor Worthy's (Adam Vaughan) sugar plantation, her knowledge of Shakespeare marking her as a 'pet' for the snootily cruel Lady Worthy (Charlotte E Hamblin).  But with a slave revolt quietly bubbling up in the plantation, Cicero and Nono plotting to free her and a despondent Inkle reappearing perhaps there is hope yet?
If shows were judged on their principles this would deserve unanimously rave reviews. But they're not, and despite the obvious best intentions of cast, crew and producers I'm sad to report that Yarico simply isn't very good. 
Problems begin in the opening scenes, in which Yarico and Nono bemoan the tedium of island life. There's an irritating 'Carry On' tone to these early scenes, the native tribe played for laughs with songs about fishing and hammocks. Actors lounge about the stage in modernish clothes looking like student backpackers, the only concession to 'tribal'-ness the odd swipe of white face paint somewhere on their bodies. 
At this point the tone is stuck firmly in campy sex comedy, with Nono excitedly spouting innuendo about spending weeks at sea being "sprayed with salty sea foam".  A couple of minutes later we're thrown into the middle of a traumatic slave auction. This tonal mismatch continues throughout and largely serves to undermine the drama. It's as if 12 Years a Slave had seen fit to give Solomon Northup a dopey comedy sidekick who'd periodically spout pidgin English and trip over stuff.
By and large, the more Yarico skews to the dramatic the more tolerable it becomes. Fortunately the second act amps up the seriousness. It's here that Liberty Buckland, adrift in the early scenes, finds the pathos and misery in her character. Almost every successful moment in Yarico comes courtesy of her considerable talents, scratching out tragedy from within this mixed-up script.
Unfortunately that doesn't compensate for whatever else is going on in the play. The scenery, consisting of a couple of bamboo sticks dangling from the ceiling, does little to , does little to convey the tropical Caribbean. Nor does a performance space that looks suspiciously like an S&M dungeon: with a tacky black vinyl floor and walls covered in (what appears to be) black electrical tape.
The score and book are, for the most part adequate. The early, cheery songs are a bit brainless, but I can enjoy a simple song about a hammock. More lamentable is Chocolate, in which sinister plantation owners use eating chocolate as a metaphor for raping their slaves. The easy highlight is Spirit Eternal, especially the final performance featuring the whole cast that impresses because of its volume and palpable sincerity.
Yarico is a classic case of noble intentions colliding with poor execution. I agree that the story should be better known, that it's historically important and that it has contemporary relevance (slavery still being very much a problem). But this production bites off more than it can chew, leaving us with a tonally screwed-up, cheap looking and often tedious experience.
If only could you run a show on sincerity alone...
★★ 
Edinburgh  1999
Inkle & Yarico
'Inkle and Yarico is a rare gem!"
Financial Times
"The Quintessential Edinburgh Experience"
The Scotsman
"The World Premier Performance of Inkle and Yarico was the highlight of this year's festival. The storyline and the wonderful blend of musical styles took me far away from the very cold Edinburgh to the heat of Barbados. The cast of very strong singers included Michael McCarthy as Inkle and Natalie Tinn as Yarico. This performance was brilliant finish to the 1999 Edinburgh Festival." 
Musical Stage Magazine